During the 2008-2009 school year I began using The Sisters' (Gail Boushey and Joan Moser) process of teaching balanced literacy to my fourth grade students: Daily Five Reading
and CAFE Literacy
. Periodically I will post information, videos, or examples of how I am implementing this balanced literacy structure.
Daily Five Reading and Literacy CAFE
Daily Five Reading
is just one more way to organize your balanced literacy instruction. It is very similar to what some people call "Reading Workshop" or "Reader's Workshop". Personally, I love how Daily Five Reading is structured around current reading and brain research and how it builds student independence. The Daily Five is a structure that helps students develop the daily habits of reading, writing, and working independently for a lifetime of literacy independence.
Daily Five consists of five components that students (ideally) practice daily:
Read to Self,
Read to Someone,
Listen to Reading,
Word Work,
Work on Writing
If Daily Five Reading is the structure for students, Literacy CAFE is the structure of teaching reading strategies and assessing students. CAFE stands for:
Comprehension,
Accuracy,
Fluency,
Expanding Vocabulary.
Through mini-lessons taught each day, strategies are added to the CAFE board (see picture above) and referred back to as necessary.
Here is a quick video snapshot of my classroom. Students are engaged in Read to Self, Read to Someone, and Work on Writing. In this video students chose which component of Daily Five Reading they wanted to work on, so all three activities are going on simultaneously. Students on the computers are writing science presentations, while other students are actively reading.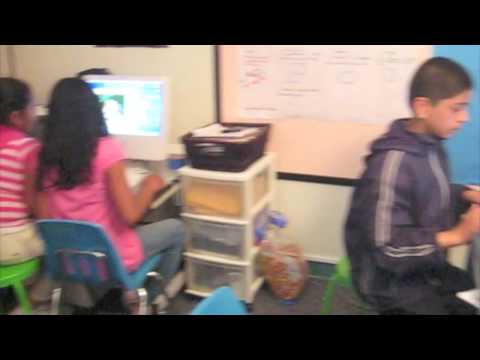 Want to Know More?
Interested in learning more about Daily Five Reading
or CAFE Literacy? Read related articles about Daily Five Reading and CAFE Literacy: